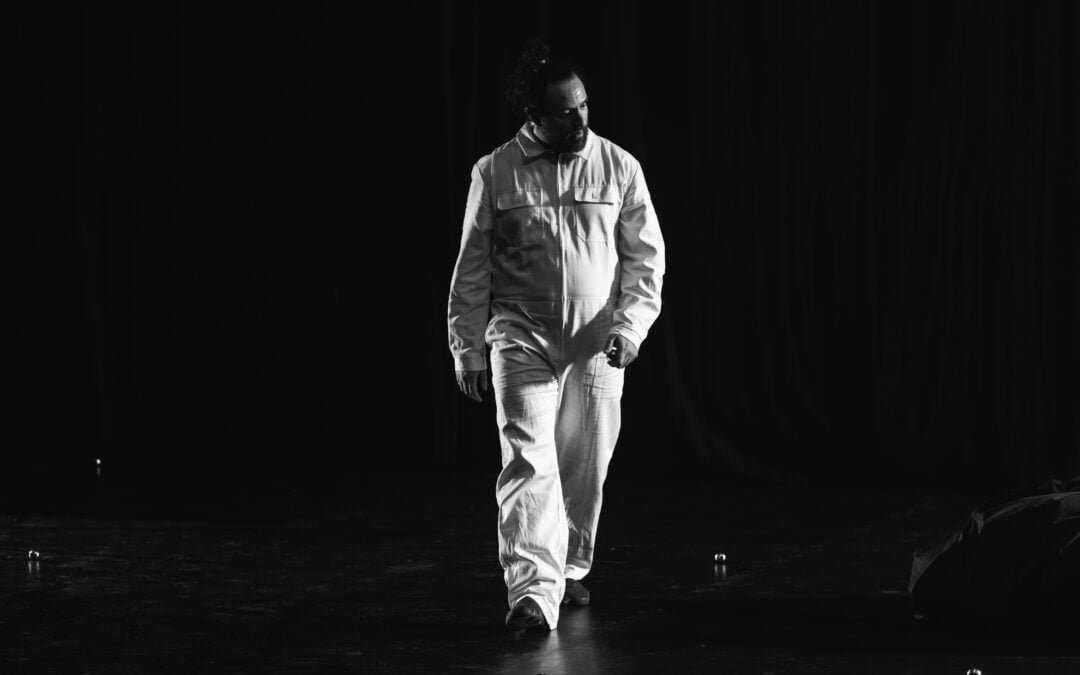 nigunim at Tanzfabrik Berlin, March 23-25, photo by Claude Hofer
Dear Dance Fans and those who love them, I hope this finds You all happy and well! This is a big fat newsletter with lots of CONTENT, so i will get right to it, in chronological order: First, the past! Thank You to everyone who came to see my solo, nigunim, in March, as well as to the gorgeous team at Tanzfabrik Berlin that made it possible. This was a deeply personal and vulnerable piece (this coming from someone who has made contemporary dance p0rn), and i was touched by the empathy and compassion that the audience brought to this communal experience of sharing work.
Trailer of nigunim on Tanzforum Berlin here.
Beautifully written review by Parvathi Ramanathan on Tanzschreiber here.

Then, last week, i had the honor of sharing Scribbles, an interactive DIY playground performance at Winterfeldplatz in Berlin, in collaboration with loudsoft and FELD Theater for Young Audiences. Thanks to violinist/performer/mediator Daniella Strasfogel for inviting composer Dr. Ruth Wiesenfeld and myself to create interactive scores for ages 4 and up. I had a blast and hope to continue this work soon!

And now, the FUTURE!

This coming week: Wednesday, May 24, 8pm at Zwitschermaschine, Berlin: I'm super excited that my friends Robert & Achim have invited me to perform at their underground performance series VOLKSTATA – this year's theme: Tipi Tipi Tipso, Apocalypso. I will be performing an as-yet-unseen 20-minute chamber version of my epic 2021/22 solo Alles Vergängliche, to Gustav Mahler and the current News of the Day. Also on the program: Eva Karduck does a performative reading of her work "Elegja". More info here.

Friday June 2, and Saturday June 3: continuing our world tour, i will be performing for the superlative Michael Turinsky in SOILED, at PACT Zollverein (aka PACT SOILverein) in Essen. Amazing co-performers! Pumpkin seed oil! More info and tickets here.

Friday June 9, to Sunday, June 11: Teaching a workshop on Freedom & Form – embodied reflections on hierarchy & power dynamics – for the wonderful folks at luhmen d'arc in Zurich. Looking forward to re-connecting to Zurich again, as i always have a great time there, and also will most likely be spending more time there in the future (see further below). Come! Will be wild. More info and register here.

Friday June 23, from 2pm to 5pm: Teaching a workshop on Embodied Fermentation/MicroSomatics, at (Re-)Gaining Ecological Futures: MycoPoetics, at Floating University Berlin. Always wanted to know how all of that delicious stuff in my kitchen is prepared? We will explore the digestive system in movement, as well as talk about the many aspects of fermentation, not to mention go home with a jar or two of our own making. It's free (!), but registration is required. More info and register here.

And last, but most certainly not least: This year, i will be making my triumphant return to the ImPulsTanz Festival in Vienna, always a multidimensional experience. I will be teaching the workshops "My Lovers, Human & More-Than-Human", and "Facilitating, Teaching, Holding Space – strategies of transmission" – the latter with my good friend and long-term artistic accomplice Nicole Berndt-Caccivio. Both workshops will happen during week 2 of the festival, July 17-21. More information and registration here.
I will also stay on some extra days at ImPulsTanz, enjoying the Vienna summer, to teach one of their Public Moves classes, a free, open-level, outdoor summer series. My class, "Moving from the Bones", is happening on Monday, July 24, at 6:45pm at Museumsquartier. Some impressions of Public Moves here. 

The LONG-TERM FUTURE:

Even though this won't have a public component to it for a while, some of You have been supporting me in this endeavor for quite some time, and so i wanted to share with You that i've (finally!) been accepted into a Transdisciplinary Artistic PhD program, a collaboration between Zurich University of the Arts (ZHdK) and Linz Arts University (Kunstuni Linz). I will have a supervisor at each of the institutions, and will be pouring myself into my proposal: "Desire to Become One – Sex, Spirit & Choreography as Active & Receptive Practices". Since it's been something like 4 years now that i've been applying to artistic research PhD programs, including a moment of despair or two, i'm pretty happy about finally starting, and want to put the intention out there to enjoy every minute of the next few years, even in the tight moments of arts academia. Thank You so much to everyone who ever read over a proposal, encouraged me to keep going, or rejected me from another program – otherwise i wouldn't be starting this one now! Will keep You up to date as soon as there's any public manifestation of the research…

Sending lots of love and looking forward to hanging out again here or there.
xxxxx,
David B.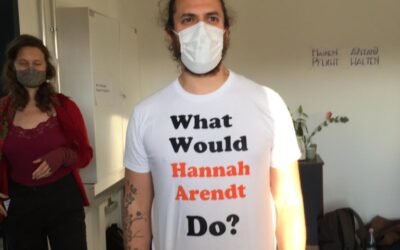 Hey Dancers! Sorry for the extemporaneous email – i like to keep these to 4 a year, to avoid getting on your shit list. Just wanted to let You know that my weekly Tuesday evening class, Finding the Most Open Question at Tanzfabrik Berlin will be going...
read more